Richard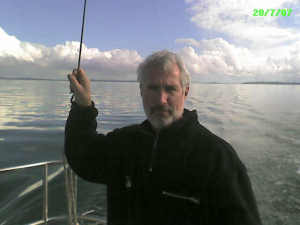 Producer and Profit Growth Specialist
Richard has a unique history in business, computers and the Internet.
Starting out of College Richard started his business career at the young age of 17 with his first business venture, a lawn mowing round. After selling this at a profit Richard wanted to move into Sales and Marketing and started on a Diploma in the Fundamentals of Marketing while holding down a full-time job as a Sales Person selling Bulover watches, Lancome perfumes and Gary Player golf clubs.
Richard quickly moved up the ladder and at the age of 20 was working in Airest Industries (the largest Furniture manufacturer in New Zealand at that time) and then at 22 as a marketing manager in a subsidery of Feltex that handled Debonaire Products, Sebel NZ Ltd., Progress Universal vacuum cleaners and the H-Mart chain of furniture stores.
Following this Richard moved to Blenheim to work in the Family business that supplied Car Seat covers to Woolworths, Foodstuffs and car retailers all over New Zealand as well as Stretch Fit upholstery covers agents nationwide.
After selling this business Richard moved into technology and after a trip to England started a company called SignScreen Products which sold Vinyl Cutting systems to Signwriters all over New Zealand. SignScreen introduced the first PC based Vinyl Cutting Systems into New Zealand, revolutionizing the Sign Industry.  Because they had the equipment at their fingertips Richard started a number of successful Sign Shops in Blenheim and Auckland.
At the same time Richard setup a security franchise operation throughout New Zealand with 13 franchisees on behalf of Neighbourhood Securities Ltd.
In the early 1990's Richard started working on the Internet and developed skills in helping companies setup their Internet Marketing systems. This lead him into various fields of online marketing and working with numerous startup operations. 
Richard had a passion to help business people succeed and because of this passion and after merging his online operations and web development company with  his son's video production company to form U4 International, Richard extended the operations into Business Growth consultancy as it seemed a perfect fit with the Marketing company. Richard is therefore now trained as a BBI Business Growth Specialist and Richard heads up this side of the business using his marketing and business growth knowledge to access the needs and uniqueness of a company or product so that the creative team can create videos that target the appropriate market.
Richard brings to U4 years of Sales and Marketing experience and business knowledge and is the main Business Growth Specialist on the team.